GLULAM POST

STRENGTH
Multiple members increase strength over solid sawn members. Laboratory tested design values.
DIMENSIONAL STABILITY
GluLams have consistent dimensions, are straighter and available in longer lengths (up to 40') than solid sawn members. GluLams are also resistant to twisting, splitting and checking.
LIGHTWEIGHT
Kiln Dried CCA lumber allows finished post to weigh approx. 60% of similar sized treated solid sawn member.
SAFETY
Structural adhesives mean nails and lags hold without splitting plys as with nail laminated columns, also no nails or plates to damage saws. Untreated tops reduce exposure to CCA and allow use of standard fasteners. (non-corrosive)
ECONOMICAL
GluLams are competitively priced and do not carry the high premiums for longer lengths as solid sawn members.
GREEN POSTS

Provides superior protection from the harmful effects of:
Concrete
Termites
Soil Nutrients
Rot & Decay
Soil Organisms
Oxygen
Moisture
Corrosive Soil Agents
Extends the service life and enhances the performance of wooden posts.
ENVIRONMENTALLY FRIENDLY
Not only does GREEN POST function as a barrier to prevent decay, it also prevents the preservative chemicals in treated posts from entering the soil.
EXCLUSIVE NOTCH DESIGN
Provides superior resistance to wind uplift. (Up to four times the uplift resistance as rebar or blocking methods.)
Eliminates the need to fabricate the typical anchoring devices on the jobsite.
MANY POSSIBLE APPLICATIONS
Post Frame Buildings
Deck Posts
Fence Posts
PERMA-COLUMN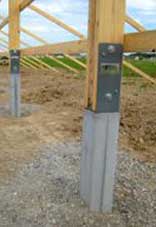 PERMA-COLUMN
Perma-Columns are five foot precast concrete columns that keep wood out of the ground, ensuring your building's foundation will never rot. They are the first product to combine the economy of post-frame construction with the durability of a concrete foundation. Simple installation. No waiting on concrete trucks. No treated wood in the ground.
STEEL ROOFING & SIDING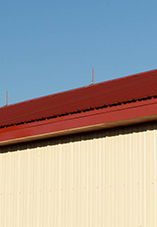 DESCRIPTION
True 28-gauge steel (before paint) with heavy-duty metallic coating is encased in abrasion-busting primer and siliconized modified polyester topcoat to deliver enduring corrosion resistance and longer life. Wider blanks, deeper minor rib heights create a stronger, more durable panel.
ADVANTAGES
Synergy chalk and fade resistance
Greater snow and wind yields and hail resistance
Highly resistant to UV rays, acid rain, salt spray, and abrasion
UL RATINGS
UL construction No# 560 UPLIFT TEST
UL 2218 Class 4 IMPACT RESISTANCE
UL 790 Class A FIRE RESISTANCE
ROOFING & SIDING APPLICATIONS
Agricultural
Architectural
Commercial
Industrial
Residential
STANDARD SPECIFICATIONS
28-gauge (.016) Structural Steel Grade 80 produced in conformance with ASTM792
95,000 PSI minimum yield
Siliconized Modified Polyester Paint System with standard primer
Heat-formed panels with 3/4" major rib height; 3/16" minor rib height
36" cover width
Custom cut to the inch up to 40'
Available in a wide variety of colors
3:12 recommended minimum roof pitch
40-year non-prorated warranty
10-year edge rust warranty
Cut panels coated with CECITM
CUPOLAS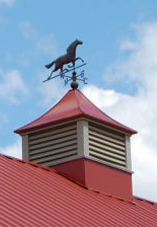 Cupolas are built from quality galvanized steel and have a factory painted finish. These quality handcrafted cupolas will add years of maintenance-free beauty to your structure. Available in any standard roof metal color. Custom built to match your roof pitch and available with weather vanes. Many other options to choose from.
WARRANTY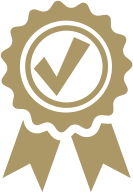 40 Year Warranty on all painted metal panels
(Applies to rust, discolored paint, streaks etc.)
1 Year Workmanship Warranty
(Applies to loose or missing screws or nails, improperly fastened lumber, trim or metal, etc.)
Lifetime Structural Warranty
(Building guaranteed to withstand wind and snow loads according to your local code requirements.)